Breakers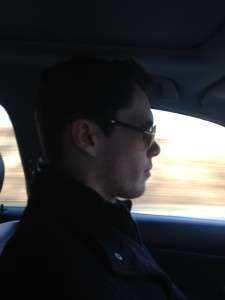 Ever felt like you were drowning? That the circumstances surrounding your life were metaphorically stealing the breath from your mortal body? I was listening to a Florence and the Machine song recently that includes the lyrics, "the arms of the ocean are breaking over me…carrying me…delivering me."  As much as the song seems like a cry of desperation, you can also choose to hear a deliverance, with a slight change in perspective. My 21-year-old son experienced a literal near drowning, on a mission trip to Costa Rica when he was 15 years old.
He wrote:
"We went to swim in the ocean on a break. As I was swimming, I periodically looked back at the shore to see where our escort was, in order to maintain my orientation with our camp on the beach.  The last time I looked back, I did a double take. Our escort was a lot smaller than before, and I realized how far away from the shore I was. I had unknowingly been swimming in the midst of a riptide, which had proceeded to carry me quite far out to sea. Coincidentally, there was also a storm rolling in, and on the Pacific side of Costa Rica a storm brings with it 13 foot waves. I suppose in hindsight I should have figured it may have been a bad day for a swim, considering the dark cumulonimbus clouds above, and the surfers who had gathered on the shore.  In fact one of the surfers and I had nearly collided earlier in the day, and I decided I didn't like that guy. The next feeling I experienced was a need to return to land. Naturally I tried to swim quickly back, this is when the waves made their power and presence known to me. In an attempt to escape my situation I unknowingly swam straight into the riptide. I swam to no avail, and the waves continuously slammed me under the water. At some point I realized my strength was rapidly waning, my fate seemed irrevocable. There was a moment of helplessness for the briefest of moments, that I have not experienced since.  Before I could drift into true despair a tan muscular arm hoisted me onto a surfboard. Lo' and behold it was the surfer I had encountered earlier, in my mind he transformed from an annoyance, to a savior. I remember there were two surfers, and for some reason the one who grabbed me had to leave me on his board for a moment while he grabbed my friend, who was stuck in the ocean with me. Suddenly I was afraid again, irrationally fearing my surfing savior would not return in time. He did, and we rode the waves all the way into the shore. This happened so many years ago that most of the time I forget that I almost drowned, but every now and then I remember. When I do it's a sobering moment of appreciation for life, and a cold reminder of just how fragile it is."
That day, Evan felt like he would drown, yet he did not.  His natural inclination to fight the monstrosity before him, almost led to his demise.  He had a moment of deep desperation that amazingly is now a wisp of memory.   What a beautiful reminder.
"This is what the Sovereign LORD, the Holy One of Israel, says: "In repentance and rest is your salvation, in quietness and trust is your strength, but you would have none of it." Isaiah 30:15