Endgame
---
Sometimes when I send one of my editors a rough draft of a blog he comes back with, "So what?" I know he loves me, no matter what I write, so I like it when he gives it to me straight. I've struggled a bit in my life with having a defensive reaction to people giving it to me straight. You ever hear, "You can give it out, but you sure can't take it!" If so, you know what I mean.
Why is it so hard to accept that we are fragile beings? We all know deep down that we are flawed. That whole walk and talk match up thing. As if. This is really tough when you are a big talker by nature.  I've had to learn to qualify myself when I'm in conversation with friends and I have a wise thought. "Look, I'm not saying I know how to do this myself, I'm just sharing something that I read and it makes sense to me.  Or, I fucked this up big time and learned this particular lesson the hard way, ok?"  A friend said, "I really like the things you post, so encouraging!" Well, me too, I do it to encourage myself as a general rule.  I totally feel the original essayist Michael de Montaigne, "If I had even the slightest grasp upon my own faculties, I would not make essays, I would make decisions." Yes, completely whistling in the dark.  (Interestingly, I came into contact with his work in researching home education, if those of you now in this situation want some different perspectives.)
Although I said we all know we are flawed, I'm really not a fan of the word flawed anymore. I think it can weigh the soul down with a feeling of "less than" or more specifically "unworthy" of being. When he was pissed off at someone, my sister's high school friend used to call people, "A waste of human flesh." And I get it, I really do. Some people's actions are so hurtful to others it does seem like they are wasting the gift of life. I definitely feel like a rotten POS when I know I've hurt someone.  I think I don't like the word because it supposes that something other than flawed is our natural state, something we are here to become.  Like there should be some shame in not having all our shit together all of the time.   Damn if I can think of another word for human reality at the moment, but I'm done with flawed.
Here's some reality, we were brought into being by something outside of our own power.  Life; a gift.  We are given a unique set of qualities yet our substructures are the same as everyone else's.  Then we soak up meanings about ourselves from everything around us which most times has nothing to do with us or our value as a being, and more to do with the people we were brought to.  Somewhere along the way we figure we need to earn our place as a being, or just survive. Some try to be good, other's don't.  The first set confuses value with action which is bad enough, but then still suffers the eventual fact that even good actions can have unintentional negative consequences.   The second set instinctively knows they need to pretend, go-along-to-get-along, and voila we have the low down dirty dogs hiding in plain sight. Ha, I still think it's a gift but it's also a comedy.  I feel deep respect for those who were treated to tragedy early on and must struggle to genuinely believe that their life is a gift to them and to the world.
Well shit, now we are adults and we don't know what it all means.  We are so fragile and confused,  not even realizing the steps we have developed to subscribe meaning to our lives.  We're stepping around half the time not being able to tell where we begin and other people end.  We split people off into the good ones and the bad ones, always aligning ourselves with the good side.  Then we point our fingers at the other side in blame and reproach for when the gift of life hurts.   Even when we look inside and know full well that whatever our lives look like at any given moment past a certain age, we are the ones responsible for that vision, still we point. What to do?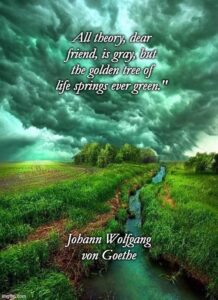 The gurus say we need to feel self-love.  The shrinks say we need to deal with our BS. The religious say we need to repent. The politicians say just vote for them and they will make everything A-OK.  The salesmen say whatever will get our money in their pockets.  So many voices.  My current favorite writer, James Hollis, says for starters to ask ourselves, "What does the soul want?"  Personally, learning to value the gift is a goal, mine and others, without sides.  Even, and especially in, moments with feelings of confusion or loss, being alive is a gift.  Luckily for me, I also like to "make essays."
"It occurred to him that his scarcely perceptible attempts to struggle against what was considered good by the most highly placed people, those scarcely noticeable impulses which he had immediately suppressed, might have been the real thing, and all the rest false."
― Leo Tolstoy, The Death of Ivan Ilych.