Freedom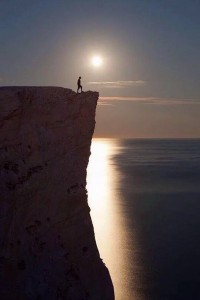 "The only person you are destined to become is the person you decide to be."
Ralph Waldo Emerson
The family made fun of me last weekend, because I am so picky. It was all in fun. We are all adults now, and I will own to it. I'm picky as hell. My actual goal in life is to do what I want, when I want and how I want.  Sound self-centered?  It can be, and I'll describe how.  But it can also be acceptance.  Acceptance that I am inherently responsible for my life.
I know of a few people who have been kicked around in life from living with a narcissist. The word narcissism comes from Greek mythology. Narcissus fell in love with his own image.  Psychology Today says a narcissist is someone who: assumes that everyone adores them, acts like they know everything, believes rules don't apply to them, projects an image of superiority, is charming at first, but not for long, and is very sensitive to criticism. Further, "a lack of empathy is the most telling characteristic of the narcissist. They don't care what other people need or how they feel. Everything they do centers around what they want and need. They don't care what type of pain they inflict on others. While fundamentally unsupportive and manipulative, they can fake empathy when it helps them look better. But they lack a genuine desire to put anyone else's needs above their own desire." (Narcissism)  So, a narcissist does what they want and when they want and how they want. But they aren't picky, they will roll right over anyone who stands in their way with their coercive superiority.
I think the subject last week was food. I'm a major junk food junkie. But, being picky saves me from weighing a thousand pounds. I mean, I don't recommend junk food, because it's hard on the body and definitely adds some poundage, but I like it enough to make the trade-off. Trust me, junk food junkies are never looking in the mirror!
I am picky with my time as well. I spread out my list of duties over the week so I won't be overwhelmed and muss them all up. I take naps when I'm tired and I don't answer the phone if I don't want to talk. Have you ever spoken with someone who wasn't really listening?  That's no fun.  If I schedule an outing I try like hell to make it. You see, one of the things I want is for my "yes to be yes and my no to be no." (Matthew 5:37).  It's harder than it sounds, it takes a little pickiness.  Another thing I want is to be genuine. If I get asked to attend an event that I'm not really interested in, I have to say, "no thanks." I do want to be a positive presence in the lives of my friends, so occasionally I will choose to go to an event I'm not interested in to enjoy their company, rather than the event itself.
I really, really don't like doing stuff I'm not good at. My biggest obstacle is details. I miss details like toddlers miss the toilet. I used to feel guilty every time something happened because I missed a detail, loads of times. My natural inclination is to read life from a big picture framework so I'm weak in the details area.  So this is when the "I want" thought has to go down a level.  I never want to have to make three trips to the DMV for one transaction, ever again.  So that want changes me.  I will work at being better at details. (Yes, it took me two weeks to renew my license because I kept forgetting details).
So I say, be picky. Make it about who you are rather than what you do.  Whittle it down to the real deal. Who do you want to be? What is really important to you? In this day and age of so many options, it simplifies life a little bit.  I'm a work in progress but with this way of thinking, openness to change is part of the package.  You never know, one day I may want to give up cookies.