Hold On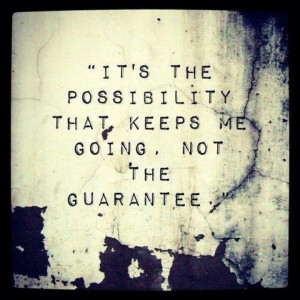 I have this strange habit of needing to define things for what they are not before I can understand what they really are. A friend asked me, "You seem to know what you don't like, what do you like?" I imagine I lived too long in defining emotional issues for what I wanted them to be instead of what they really are. Now, instead of asking, what is it? I ask the opposite.  Whatever. I guess my brain works backwards.
The big subject of hope came up shortly after the whopper of forgiveness. I've seen it called a "waking dream," a "ferris wheel," "an anchor for the soul," and "the voice of maybe." I don't get the ferris wheel one, but someone probably does.
What is hope? Like forgiveness, there are many ways to define it in trite phrases like:
Having positive expectations.
Being optimistic.
Believing tomorrow will be better.
Looking for silver linings in storm clouds.
Ok, maybe trite wasn't the right word, how about "platitudinous?" We all know that platitudes come from somewhere, so I'm not saying those things are not partially accurate. But really, having a positive expectation for specific outcomes in life is a dangerous walk. So, if you define hope as "having positive expectations" you must ask yourself, "What am I expecting?"
How about, "being optimistic"? For instance, if a fellow human has shown you over and over again  he/she can't be trusted, logic dictates that being optimistic about future trust in this sense is probably wishful thinking, as opposed to hope.
How about believing tomorrow will be better? I'm good with this one, even though believing it does not make it a sure thing. I'd rather think that each day is different and hold on to the possibility that different may be better.
I like the idea of looking for silver linings as well.  (Omigosh, did you see "Silver Linings Playbook?"  Awesome movie!)  This has been a rough year for my youngest child, so I've done a lot of focusing on silver lining thinking. One thing that happened to him is the death of his guinea pig. This was a time to leave out looking for positives and let mourning take its course. In hindsight, I don't think I did that well. Mourning is hard to watch. Last month, he had the material loss of his cell phone. I accidentally dumped him into the lake while trying to shove off the kayak he was in. He realized a few hours later that his phone was in his pocket at the time, and the entire time he was swimming afterwards. Ask the cousins, a good part of that day was his lamenting cry of the "destruction of his social life forever." I got the evil eye when I wouldn't dive for the thing as well. His Aunt got it for him, but, as I feared, it never came back to life. We hooked him up to my old iPhone 4 when we got home. So, he wasn't completely socially destroyed but he did have to go backwards, technologically.
Maybe having hope is being open to a new possibility when things happen? Unbeknownst to either of us, the new cell plan I had been considering doesn't allow any iPhones below the 5CE. I texted him the news and he was ecstatic, and said, "That's better than what I had before!" Silver lining.
Lewis Smedes, an author and ethicist whose books I like wrote about false hope in Keeping Hope Alive  (February 11, 2000, Thomas Nelson)
He said, "False  hope is when it is based on other people's lies, or a cheap escape from the messes we make, or expecting a happiness that the thing we hope for cannot bring." I guess that is my main point, some hopes are false. He further states, "Waiting is our destiny. As creatures who cannot bring about what they hope for by themselves, we wait in the darkness for a flame we cannot light. We wait in fear for a happy ending that we cannot write. We wait for a "not yet" that feels like a "not ever." Real life has a lot of "I don't know" spaces, doesn't it?
As usual, I've mainly described what hope is not.  I guess it is an ephemeral combination of gratitude, delight, lightness of being, attitude, well-wishing and patience to name a few.  Whatever it is, holding onto it seems like a great idea to me.  I "hope"  you enjoy the song and if you wish, comment as to your definition of hope.