Morning Glory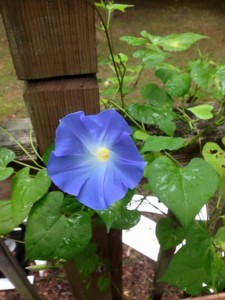 My son has a planter box on our back deck. At some point, he filled it up with potting soil and wildflower seeds.  He watched and watered it closely and did get wildflowers the first season he had it.  As a homeschooled child that counts as an A in gardening, but I'm afraid we both forgot about it after that.
Towards  the end of  last summer, he and I were doing some math outside when I noticed the planter again. It was a royal mess. There were some thin, brown, crispy, weed-like threads snaking up the deck rail, but not much else. The whole thing looked  sketchy.   I started nagging (I mean directing) him, "We need to cut that dead plant down and clean this mess up!"
This particular child is my youngest out of three boys.  He was 12 then but he will always be my "baby."   He is also an extraordinarily skilled hoarder.  I don't know how many times I have tried to clean out the stinky and over-filled shoe closet and gotten some rationale as to why he needs to keep holey shoes that are two sizes too small.  The last time I tried to open up some space, he said, "I am a sentimental person, Mom."    So, naturally, he freaked out at the prospect of removing the dead plants.  I let it go that day since it was outside and the whole deck is sketchy anyway.
About two days after that conversation, I stepped outside and was completely shocked. Not only had everything turned green and leafed but there was a lovely blue bloom, front and center.
Our whole family was in the middle of one of the greater storms of life at that time.  We were stressed out, confused and had no idea what would happen day in and day out.  I was so moved, by that bloom.  I kept thinking, "I thought it was dead, I was going to cut it down."  The sight of it made me feel hopeful.  I didn't have a sense that something particular in our situation was bound to change, just a sense that things would eventually be ok.
As a non-gardener, I had to go online to see what type of flower this beauty was and came up with a photo of a  "Morning Glory," that looked like our flower.  What I read said that they are "night-blooming flowers." How apropos, I thought.  It made me recall an expression I have always heard about it being "darkest before dawn."   I found that an English theologian and historian from the 1600's, Thomas Fuller, is given credit as the first to put in print:  "It is always darkest just before the day dawneth."   That may be true, I'm no scientist, but know that night-blooming flower gave me the sense that when life feels low, there is always room for Hope, no matter the circumstances.
Psalm 30:5 b
"Weeping may tarry for the night, But joy [cometh] in the morning."