Murder Hornets May 2020
---
Well no, I'm not writing about "murder hornets," but what a better way for me to remember that it was May 2020 when I wrote this post?  In a strange turn of events, this season will also remind me of the goal of living within the realm of possibi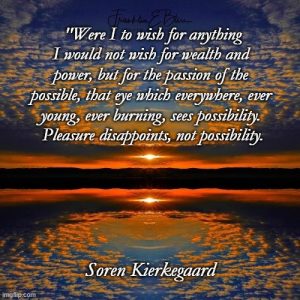 lity vs certainty.  This time period is truly a perfect analogy for life's deepest reality that things don't always turn out like we believe they will.  And that goes for whether we are optimists; those with a generally hopeful outlook in life, or pessimists; those with a tendency to believe the worst will happen.
By the nature of those words and our current circumstances, this time period also highlights humanity's long running love affair with dualistic thinking.  My simple view of dualistic thinking is when we believe something is one way or an opposite way, with no in between.  You know it has come up over and over again with the mystery of how to handle a pandemic.  Specifically, a friend told me that his assumption about people who do not wear masks in public is that we either "don't care much for others, or are being self-centered or worse."
Haven't we been here before?  The boy who wears fingernail polish must want to be a woman.  That guy is poor because he doesn't like to work.  That woman is fat because she has no will power.  That kid is addicted because he's stupid.  We have come so far in understanding  "spectrum" thinking but when the stress is high and lives are in the balance, we seem to fall back to linear thinking.  Sure, sometimes it is true that the basest reason is the reason.  But how can anyone make that determination from a distance?  Why do we want to make the determination in the first place?  Isn't there enough to concentrate on in our own lives?
Another annoying reality of humanity that is front and center is that we have no control over anyone but ourselves.  A friend pointed it out clearly, "We have to make this a law because otherwise people won't comply."  I'm sure I annoyed her when I pointed out that part of being free is allowing others to do things we think are dumb.   I will freely admit to having no great understanding in the arena of public health measures.  I get it, I do, some people take freedom and stomp all over those less fortunate.  I also tend to believe that someone with say, a sexually transmitted disease, who has no qualms about spreading it around, won't really comply with any public health laws anyway.
Some of my thinking is a part of my optimistic personality type, I just don't believe forced compliance is good for the human soul. When we love others for what they are instead of condemning them for what they are not, I believe we inspire each other to be better than we are.  It's quite magical how that can work, but it is never easy or a quick fix, so to speak.  It's more of a lifestyle of hope versus one of control.  It's giving people like me time and love to face those places where I don't love well and allow that to change me from the inside out versus commanding my compliance.
In "12 Christian Beliefs That Can Drive You Crazy, Relief From False Assumptions," Dr. Henry Cloud puts it this way, "We may sacrifice in all sorts of ways that we should, but those actions can be meaningless unless we give because we love.  If we do something only because we think we should- because we would feel unacceptable if we didn't- then we'd be better off saving our energy" (136).

 I'd guess that different personality types would disagree and say that what we do is more important than why we do it.  I can see that in the short run.  I know for a fact some of my problems in life come from rank stubbornness as much as anything else.  My problem is two-fold.  I don't want to be judged for conditions of my heart that I don't have.  Conversely, I am fully cognizant of the ways in which my heart is rotten and I desire to be better.
It's downright strange how hard I had to work to be able to accept myself in the face of those parts.  The call of certain corners of society who tell me that I am acceptable just as I am, but then condemn me if I don't toe certain lines, totally scrambles my brain.  Awareness of our flaws and each other's is a far cry from condemnation.  The people that love me have permission to speak into my life and days and actions. Granted, I don't make it easy for them.  The rest of you, why do you care anyway?
I guess I hope that in times like these we could all take a step back and hear each other out.  Maybe show some grace in the face of so many unknowns? In difficult times I am reminded of the artist Rodin's words, "Nothing is a waste of time if you use the experience wisely."  I'll eventually come out of my personal places of denial or self-centeredness over my life time.  My personal goal is to allow everyone else the same attempt.