Reaching the Heart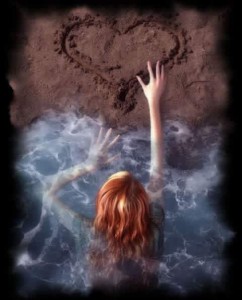 I had a therapist tell me one time,
"Your instincts are spot on, why do you disregard them?" I was walking in circles in a parking lot waiting to pick my son up from an event when I called her. I was upset at the actions of someone I had let in my life. I was being a friend to this person but ignoring the red flag of not being given the same type of courtesy. Yes, that is the issue. There were red flags. I knew there were character flaws present. More than once this gal had bullied through my boundaries and annoyed me to no end. I dealt with each circumstance, and kept my mantra of being who I wanted to be no matter what others did. Problem with my idealistic mindset, is the point when someone goes too far. In this case, my son was the victim of her brazenness and you know what that means to a Mom. I was pissed that I didn't defend my walls more vociferously. I was unhinged at the thought that my lack hurt my kid. This was quite a few years back so I was not happy to experience this again recently.
This recent scenario played out in a single day! Something just didn't feel right with the actions of another person. I had a ding go off in my mind asking me, "What was that?" But I didn't listen to that ding. I didn't generate some distance between myself and this person. I was kind. I was accommodating. And wouldn't you know the guy went too far. Now I wish I had just been considered a bitch from the get go. I'm so pissed that this scenario has happened many times to me. It hurts.
In the face of hurting someone else, I will usually choose a path that hurts me instead. I don't say that proudly, by any means, it is just a current reality.  Incidentally, I don't usually think of myself as a people pleaser.  My friends will testify, that when I'm done, I'm done. When I'm tired, I'm out. I'm wondering now, is there a line between kindness and people pleasing that I have not been able to see? Have I been fooling myself? Do I do stuff because it will help another, no matter how I feel? Good Lord, of course I do or I wouldn't be complaining about it now.
I feel like I have a set of wise instincts living under my chest bone at war with some other strain that brings me ill.   My good friend and advocate tells me I am a compassionate person.  Maybe at times.  My feminist friends say I am a product of a patriarchal culture that imprints being nice as also being willing to swallow disrespect. Probably.
Of course I don't know the answer, and I am trying to remember what my therapist told me after that other event years ago. I am such a fan of taking responsibility for my choices and deciding day in and day out, "Who will I be?" Maybe it is not that simple.  Maybe I need to accept the fact that being kind will take something out of me. That sometimes it will hurt. Maybe look for people who think the same way that I do and share the love that way. And for heaven's sake, I've got to turn up the volume on that ding.
I adore these moving thoughts by a friend:
"Find the ones who are worthy of all of your yes-ness
Yes the fuck out of them
Yes them with no expectation of anything back
Yes them because you want to yes them
Yes them hard
Yes them often
Yes them real
Yes them because of how you feel
Yessing them
Yes to them, yes with them, yes on them
Yes right in their faces
And simply No everyone else
Don't bother with explanations or worry or time spent
Just no the others
Unlearn what you have been taught as a girl
Yes those your insides tell you to yes
Yes the ones you wanted to yes from the moment their lips parted near your ear
Yes the ones whose eyes are your eyes,
whose mouths are your mouth,
whose grip is your grip,
whose hand is your hand
Yes those whose back is weak when yours is strong,
and those whose thighs will carry you when you cannot stand
Yes them
Yes them sharp and deep and honest
Yes them solely
No all others
Until your yessing together is done
You will find
All that concentrated, real, genuine yessing
Will cause a whirlwind of yesness
It will whip up and swirl and come to you
It will wrap you
It will bind you
It will build you
It will find you
It will give you
Goodness and honor and strength and love
Oh yes!
Choose your yesses
But mostly,
Mostly
Say No"
Poetry by Jill Freebird Jacobs.
Feature Art by Jill Freebird Jacobs