Schema
---
I have quite a few people who comment with sad faces when I remind them of the difficult parts of life. Or rather the seeming necessity of the difficult parts. "But why does it have to be this way?"  I am asked. Of course I don't actually know the answer, but I can see the possibilities. The author and Trappist monk Thomas Merton says, "Souls are like athletes, that need opponents worthy of them, if they are to be tried and extended and pushed to the full use of their powers, and rewarded according to their capacity." I don't believe Merton was referencing humans when he used the word "opponents."  I don't think he's speaking of some future reward for "fighting the good fight," either. He's saying that we find out what we are made of at the conclusion of a challenge. Our ability to navigate difficult times reveals who we are. It reveals who our friends are and who in our circles we cannot trust.  It develops our courage for the next time.  Who we are, becomes the answer to the why question.
The well-known social psychologist Carl Rogers stated that developing an empathic personhood is vital in the work of therapy. "To be with another in this [empathic] way means that for the time being, you lay aside your own views and values in order to enter another's world without prejudice. In some sense it means that you lay aside your self; this can only be done by persons who are secure enough in themselves that they know they will not get lost in what may turn out to be the strange or bizarre world of the other. It also means that they can comfortably return to their own world when they wish. Perhaps this description makes [it] clear that being empathic is a complex, demanding, and strong – yet subtle and gentle – way of being."
It seems to me that we could all benefit from developing this type of stance. What better way to learn empathy than having faced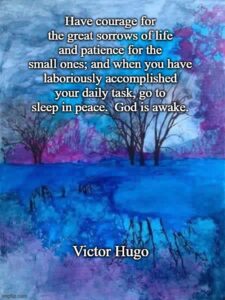 one or two adversities ourselves? Merton seems clear on this one, "Only the man who has had to face despair is really convinced that he needs mercy. Those who do not want mercy never seek it. It is better to find God on the threshold of despair than to risk our lives in a complacency that has never felt the need of forgiveness. A life that is without problems may literally be more hopeless than one that always verges on despair."  Wow, not exactly the positivity doctrine.  Any life can seem to be going well externally when really there is an internal sickness.  Conversely, we can be generally well internally but deal with struggles and challenges which we are absolutely not at fault for.
The Bible notes that "testing" develops perseverance. Another great trait to have when the storms of life slam into us. Jesus said, "The thief comes only to steal and kill and destroy; I have come that they may have life, and have it to the full." So is a full life possible if we haven't developed perseverance, and empathy? Or looked closely at  our "opponents" and outlasted them? The Irish writer and theologian Peter Rollins really annoys some Bible readers when he asks, "What if Jesus was not offering his followers an ethical system to follow, but rather was inviting them to enter into a life of love that transcends ethics, a life of liberty that dwells beyond religious laws? The difference between following an ethical system and being consumed by love can be seen in the way that ethical systems seek to provide a way to work out what needs to be done so that it can be carried out. In contrast, love is never constrained, it never sits back, it always seeks to do more than what is demanded of it." His implication here is that there is more to life than having all of our individual needs met and smooth sailing is not really the way of love.
Joseph Campbell, who was a writer and professor of comparative religion, is known for saying, "People say that what we are all seeking is a meaning for life. I don't think that's what we are really seeking. I think that what we're seeking is an experience of being alive, so that our life experiences on the purely physical plane will have resonances with our own innermost being and reality, so that we actually feel the rapture of being alive."   Of course rapture makes us think of  pure pleasure, but it can also mean enthusiasm.   There is definitely no goal that can be met without a willingness to face challenges, which sounds like enthusiasm to me.  I know the best things I have ever experienced in life, raising children for instance, were also the hardest things I have ever done.
Over time I have come to the conclusion that when I ask the "Why?" question it is just my weakness in wishing for a different, easier reality. I do ask it, repeatedly, along with weeping, moaning and wailing. At some point the answer I hear is always, "You already know why, Jill."  You know the complexity of inhabiting your life fully takes deep soul work. You know that you aren't in control of the universe or the ones who inhabit it with you.  You already know.
So who? eventually becomes my question, instead of why. Along with quite a few others.  Who will you become? Who can you trust? Do you want to develop staying power in life, or will you demand your own way? Do you want to develop courage and strength? Do you believe like Julian of Norwich that "All shall be well, for there is a force of love moving through the universe that holds us fast and will never let us go." This definition of  being well, also sounds like an abundant life. Knowing that, all can be "well with our souls," even when we are sick, or the walls of responsibility are closing in or the world is crashing into the sea, and abuses continue to happen generation after generation, and low down dirty dogs roam in plain sight, and I forget to stop weeping…Can I still be well?  Finally the question changes from "Why me?"  to "Why not me?" and at least for a moment, the why doesn't matter.