Spiders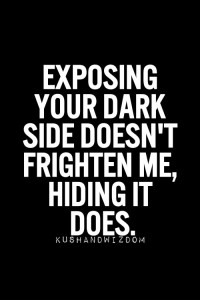 Ever since my kids were born I took the advice of the honest Moms who said, "Nap every time they do." Littles get up extremely early and wake you up constantly during the night. In order not to be a raging psychotic Mom – the naps were vital for me. I thought I would get a short season when I could go back to a more typical sleep pattern but it never happened. I ended up with a six-year-old at the same time I had a 13-year-old. If you don't have kids, 13 is when they start staying up really late; not only that, some will not speak to you all day and yet bring you the questions of the "meaning of life" at midnight.
Right now they are all sleeping like the dead, really late into the morning, or are getting themselves up to go to school or work or whatever. You'd think I would sleep in as well, but I can't seem to sleep any later than 5am most days. I like being up early though. (Having to be up and out somewhere early– different story). So I usually make coffee and sit on my deck in nice weather. I like to watch the day wake up as the sun slowly lightens the darkness. I enjoy the fine frog concerto emanating out of the reservoir near by and the early bird songs.
In order to watch the day brighten, I don't turn on the porch light. Yesterday I dropped something and as I was using my phone to see, I spied the BIGGEST spider ever. It was hanging out on the deck rail oh, about two inches from my arm. Once the ick factor receded and I refilled my coffee cup, I turned that damn light on and swiped that sucker onto the ground far below. I searched around a bit for more crawlers before turning the light off and chilling again.
I thought of that little guy all day, because really, a big spider is still smaller than my thumb, nothing really to fear for heaven's sake. They even eat the plethora of insects that annoy the crap out of me during the day. Yet, I was also remembering my son, who loves the animal kingdom, warning me about all manner of poisonous spiders. He has shown me pictures, and told me how many times he's seen a Brown Recluse or a Black Widow in our basement. "One bite Mom, and you are history." So now, when I go out before dawn, I flip the light on and check around for guests before settling in.
A childhood friend of mine used to joke, when we were walking home late at night in the neighborhood, "I'm not afraid of the dark, I'm afraid of what is in the dark!" Wow. What is in the dark? I think it's a great question to ask about our minds and hearts. I know I spent years refusing to shine a light on those things that I knew lay undercover in my subconscious. Questions, like,  "do I really think this (whatever) is true?"  "Do I really want to walk this path?"  "Am I afraid of going for what I really want?" "What DO I really want?"  When I started this process, oh, twenty-some years ago, I eventually found some poisonous spiders.  Lines of thinking or beliefs that I needed to challenge.   As in, 'Is this accurate?  Or, 'Is this serving me anymore.'  Or, 'What the hell, that's not true!'
Some of the spiders in my mind were harmless little nuggets that I could live with, but I still needed to know they were present, and informing my way of seeing life.   Some of those harmless ones also seemed poisonous, but when I examined them closely, they really weren't.  I had to reconcile that some thoughts I had picked up along the way, didn't really hold water.
I'm not a child anymore, so I choose not to be afraid of what is in the dark.  In my mind or the minds of my friends.  My closest friends and I, we can pull them out and examine them together and live without getting stuck in the webs.
"When I was a child, I spoke and thought and reasoned as a child. But when I grew up, I put away childish things."
1 Corinthians 13:11