Triggered
The other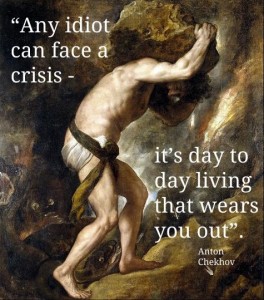 night I got in the middle of what sounded-like-it-was-going-downhill discussion between my 20-year-old son and 14 -year-old son. My 20-year-old, middle child stopped me, "Chill Mom, we got this." I said ok and backed off, reminded that I can be an over protective busybody. Same thing happened when I was at a cookout recently and watched a new Mom follow her 13-month old daughter around in circles in the backyard. Oh, I remember those days. I chuckled to myself as I watched Dad sit still the whole time and wondered if there would be an early-childrearing-fight later that night.
I was the same with my first-born!  Second-born, kept him in view a bit, but didn't follow. Third son? Well, I was still over protective and paranoid, we moved near a reservoir and weeks before moving I kept having dreams of losing him in the murky water. So I set some harsh rules but still bribed his brothers to watch him on the trampoline in exchange for homework breaks.  My eldest occasionally reminds me that he wasn't allowed on the trampoline until he was nine or so, while his younger brother enjoyed that play from two  years on.  Don't get him started on the disparity in cell phone usage either.
That middle son who set me straight recently is a serious wise-ass and loves to make fun when I say something he doesn't want to hear. "Triggered!" he yells.
These episodes have me lamenting the ways and times I have been too protective.  I'm more cautious now, asking myself, "How can I help him gain strength for this moment?"  Yes, shame on us if we don't protect our kids, but sometimes we go too far.
The now common use of "trigger warnings," goes too far even for this over protective type girl. I learned about "triggers" in therapy. A trigger is when a current word or deed by another raises emotions unrelated to the current word or deed.  Yes, unrelated emotions.  These emotions can color any appropriate reaction to the current circumstances.  Learning our triggers gives us the opportunity to determine when we are reacting in the present by something which occurred in the past. Something that needs to be examined and hopefully healed.  Unhealed past emotions will wreak havoc on current relationships; whether it is at work, at home or within a community. So if someone says you have "triggered" them, that someone has some work to do, not you. Trigger warnings were developed out of concern for those who have been through a difficult situation, but it's still backwards. It's good if you can recognize a trigger.  Plenty of people live with emotional responses that do not fit current circumstances and aren't even aware of that reality.  If we are triggered, it means we've identified a place to work from.
The help I've gained from recognizing and dealing with triggers is what led me to advertise and offer the Self-Authoring program.  The Past Authoring Program states:
"It would be particularly useful to complete the Past Authoring Program if you have memories that are more than about eighteen months old that still intrude upon your thoughts, or that still evoke emotion such as fear, regret, shame or confusion. If this is happening, it means that your mind has not yet been able to fully process your past experiences, and that the brain areas associated with negative emotion still regard the past events in question as unresolved threats. This is not good, because your brain reacts to unresolved threats with emergency physiological preparation, including the production of stress hormones such as cortisol that can be very toxic when chronically elevated."
The Self-Authoring Program was partly developed by Psychology Professor Jordan Peterson who created an undergraduate course called "Maps of Meaning."  (You can hear Dr. Peterson speak on his Utube channel, as well as guest speaking on the Joe Rogan Experience). Seeing the student success stories the Maps of Meaning course manifested led Dr. Peterson and a team of clinical and research psychologists  to develop the full program "that will improve psychological and physical health to interested individuals everywhere." (npr.org)
It is for all ages, but I sure would have liked to have a program like this a little earlier in life!  Maybe I wouldn't have had to discover my triggers the hard way.