Wholeness
I work at home so spend a lot of time maintaining the space.  I also have three boys, almost men, in-house.  Perpetual rearranging is an essential activity.
Last week's project was to remove an old desk that was attached to the wall. It was too bulky for the current needs. Sadly, where I thought the two-by-twos were nailed up, they were screwed into the wall. Choice words were thrown my way when I cried for help from one available teen. "Bleep, bleep, bleep, Mom, what have you done now?"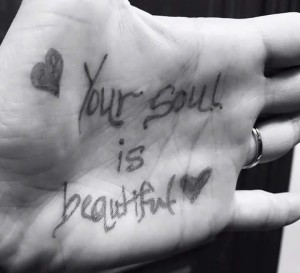 Once we got it all down, there were serious holes in the wall and drywall peelings galore. Nothing a bucket of mud and a little tape wouldn't fix in my estimation.
Today the wall is mudded, taped, sanded, primed and painted. That space I needed is now available. Now I'm no expert and could never master the whole, "feather-it-out-effect" with joint compound. You don't need to do much more than turn on a light to see where the holes and peelings used to be.
But you know what? My goal was to have a sturdy wall that isn't peeling. A spot for some important stuff. I did what I set out to do and I'm good with it. Holmes on Homes would call it a half-ass job and fire me on the spot. Hey, if I had hired someone for the job I would definitely want Holmes to do it, no lie. But I don't have the money or patience for that right now.
All this to say, it made me think of perfectionism. The voice of, "if you are gonna do a job, do it right." I get that I really do. Directed my kids many a time to "do it so I will approve" on a chore or clean up job.
But I also know there is a time and place for wholeness above and beyond "the right way." I have met some perfectionist types that have trouble accomplishing a need due to the stress of wanting it done right. Met others that I can't have a decent conversation with because I'm not seeing things "the right way," in their estimation.
Acceptance is sometimes a key to wholeness.  I have to accept that scary-under-the-light-and don't-paint-it-dark wall.  At least for now.  If we are stuck in "there is only one right way to be," there is a danger of making value judgements on issues that are really just a difference of opinion.  Now, I'm not talking about bending over for someone else's evil intent or anything like that.  I'd agree, some things are deal-breakers.  For instance, this home-maker won't be caught dead making electrical repairs.  That wouldn't be acceptance or wholeness, that would be dumb.
I love this quote from Frederick Douglas, said to be taken from a letter he wrote to his previous "owner." He was a slave who became a great social reformer, writer, publisher and statesman after escaping the life of slavery.
It reminds me to accept the individuality of each other.
"I am myself; you are yourself; we are two distinct persons, equal persons. What you are, I am. You are a man, and so am I. God created both, and made us separate beings. I am not by nature bound to you, or you to me. Nature does not make your existence depend upon me, or mine to depend upon yours. I cannot walk upon your legs, or you upon mine. I cannot breathe for you, or you for me; I must breathe for myself, and you for yourself. We are distinct persons, and are each equally provided with faculties necessary to our individual existence. In leaving you, I took nothing but what belonged to me, and in no way lessened your means for obtaining an honest living. Your faculties remained yours, and mine became useful to their rightful owner."
Frederick Douglass: Reformer and Statesman (Routledge Historical Americans) Hardcover – August 27, 2012
by L. Diane Barnes