Hungry Caterpillars
He wasn't suicidal, but he did say, "I don't want to live anymore."
It made me wonder how many other people have had this thought and if it defines a moment of feeling overwhelmed by the hurt that comes with living, rather than a wish to die.  If so, me too baby, me too. I do believe that life is a gift, but it's just damn weird that such a gift comes with so much hurting. No matter all the loving experiences, and all the hopeful thinking and all the material success, nothing changes the fact that living includes hurting.  I'm thinking out loud here because there was a point in my life when the idea of admitting to hurt was completely foreign to me.  Plus, hearing others do it was downright shocking.
It finally made some sense to me when I boiled it down to the fact that our species is fundamentally needy. We are born into the world hungry and wake up that way every day. Not just hungry for physical sustenance like food, water and shelter but also for love and belonging and touch and communion with others. We are defined by need. And every single time a need is unmet there is a hunger pang.  Some of us get into the habit of ignoring some of those pangs, I don't really know why.
If being aware of the pangs is what caused the words I heard, my guess is that he is a healthy man.  He knows that the "problem"  is a circumstance of living, full stop.  There is something ultimately right with feeling the pangs.  My guess is that being able to give words to those pangs when they feel overwhelming actually lessens them. When the reality of being needful goes unnoticed by any one of us, chaos reigns.  The toddler stage is a good example, parents always know when the littles need a nap.  Hell,  up at the top of middle age, I know when I need one too.
Yet we are a hearty species as well, and will go for times and seasons without basic needs being met and still survive. But we cannot survive if the unmet needs go unnoticed.  We tend to cause more trouble in the world when we do that.  Most of us who have plenty of food still know the silly word, hangry.  So hungry we're angry?  It is a perfect analogy for an unattended to need projected outward to spill over onto someone else in a nasty way when a sandwich could have prevented it.  It's so classic; "I don't need that, I have this other thing to do," which makes me feel purposeful or successful or lovable or whatever.  The great writer James Baldwin expressed the opinion that the unattended to pain in an individual life leads to people clinging to hate.  For instance, we know we need a healthy interdependence in families and societies.  However, there is at least one invisible power in the room with us which is the unacknowledged grief (from unmet needs) of each individual, a mighty force against interdependence.
None of us like to think about it, especially in America, but the consequence of being born needful is that life will hurt.  Suffering, humiliation, or desolation are things every person will experience at some point.  Come on, the bare bones of living are that we will all eventually lose everyone we have ever loved from this earth. We will lose the capacity to control our physical bodies. We will lose the cognitive ability of our minds and memories and we will disappear from the earth.
Yet before all that there may be whole seasons of feeling lost or lonely or in physical distress. There are plenty of people who haven't faced their own unmet needs and will speak words of blame to compound the issue. I'm sorry, but all the hopeful thinking or right action in the world cannot prevent these seasons.  Human life will hurt, at some points, no matter what.
My hope for any who have felt it:
"to love life, to love it even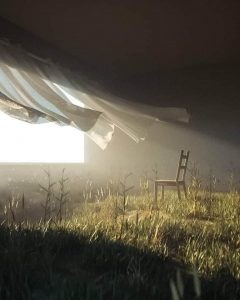 when you have no stomach for it
and everything you've held dear
crumbles like burnt paper in your hands,
your throat filled with the silt of it.
When grief sits with you, its tropical heat
thickening the air, heavy as water
more fit for gills than lungs;
when grief weights you like your own flesh
only more of it, an obesity of grief,
you think, How can a body withstand this?
Then you hold life like a face
between your palms, a plain face,
no charming smile, no violet eyes,
and you say, yes, I will take you
I will love you, again."
Ellen Bass