Beautiful
---
I recei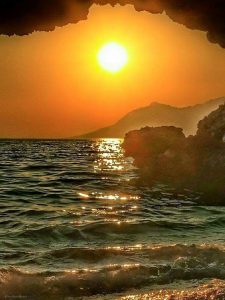 ved a gorgeous bouquet of cut flowers for my birthday.  The sweetest thing, to know you are thought well of by a loving friend.  The beautiful centerpiece reminded me for days, I am loved.  A week later the flowers' colors were still vibrantly alive although the leaves had started to brown.  The fragrance though, was not altogether lovely and at that point, the beauties had to go.  As I gathered them up for the trash, I lamented the fact that beauty in our world is so temporary.  I see it daily as my face and figure falls sway to gravity.  Life is beautiful, but temporary.  But is temporary really the right word for beauty?  I think of my spiritual friends, who remind me of the Source of beauty.  The flowers were cut, after all.  No longer connected to their source of nutrients and sunshine they had grown up in.  Their literal disconnection from their source of life is what caused the smell. The entropy.  The dying.  I see it weekly as I pick up the fallen sticks in my yard. The hanging branch teems with vitality when still connected, but dries out and cracks when separated from its source.
Gosh those flowers were pretty.  But me calling their beauty temporary is like choosing to live in a black and white world.  The signifier, the color, was not all they carried.  Those moments of joy when the delivery guy handed them over, that idea, that I was thought well of on that day, THAT was beautiful.  I believe I can choose to carry that beauty with me.  Love, the Source of beauty.
Those spiritual friends I mentioned are trying to teach me to "live in the present moment."  As a logical person I have struggled with this.  In other words, some moments suck.  Some seasons suck.  Take flowers in general, they are usually seasonal.  Hell, I don't know, I hear orchids can bloom all year long with only an ice cube, but I know my azaleas (yes the previous owner planted them) bloom fast and hard and disappear before you know it.  Temporary beauty again.
I watched this Netflix show about a young lady diagnosed with cancer.  She and her family handled it by "living in the moment," for eight years.  At that point, she was cured.  The show is about the days following the miraculous news. Interestingly, each member of the family realizes the choices they made under the threat of imminent death will not sustain them in life!  For her, the "uncertainty" is the fear-maker.  She asks, "What do I do now? I didn't think I'd still be here."  I love this line of thinking!  Life, like beauty, is as much uncertain as temporary.  Here's what I mean; I occasionally see retired couples walking in the mornings through my neighborhood.  I find this incredibly beautiful.  The long-term relationship still connected and active together.  Not too long ago this sight could make me weep, wail and mourn at the sight of something which I will never experience in my lifetime.  A beautiful dream I had that turned into a traumatic letdown.  The beauty in this moment for me now is knowing that traumas and temporary letdowns can be teachers of the eternal.  Beauty can be not just what we see, but how we see it.  I can see those flowers as temporary, or hold the sentiment as eternal.
I think back to that advice, to live in the moment, in order to find the beauty in life.  I consider the sunrise one of the most beautiful sights on earth.  I can arise each day and experience that moment, but how dumb would it be to stay sitting outside for the next 22 hours longing for the next one?  Even I can understand that one.  As much as the sunrise is certain, I won't always be able to see it, and must catch it as it comes.  Even more so, I must learn to let the moments of beauty hold me through the more difficult days and uncertain times, seeing eternity and hope as I go.  Life is beautiful.