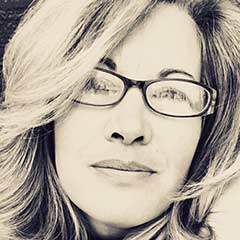 My name is Jill and I was born on July 2, 1968. I was born between two other excellent women, which makes me a middle child.
At times in my life, Mom used to fret that she had induced labor & didn't nurse me, so maybe that was why I tended to be such a sensitive child. It's a Mom thing, we take the blame for stuff that has nothing to do with us.
I am the mother of three excellent boys. I was married to their father for 24 years, from the age of 23 to 47. Our marriage didn't turn out to be a forever thing…but we really hit the jackpot with those guys.
I have been a Jesus girl since my middle school years when some church kids knocked on my door, chatted with us and left what I later found out were "tracts." I find it completely hilarious and a way in which God tempers my dislike for anything religiously led or church approved! I'm not ashamed of my love for the Lord & His Son & Spirit, but I'm no proselytizer. I believe in Freedom and that He does as well.
Over my years in the Christian community, family life, and homeschooling lifestyle, I found myself "leading" small groups of women into deeper faith. I have been active in "teaching" Bible related "discipleship" classes. I add quotes because those titles are a bit charged with meaning that I don't buy. I consider myself more of a "sharer." I believe I learn something and I share it. Actually, I try to teach things and end up learning through the process!
That's basically how I homeschool as well, whatever the age calls for, I try to learn it and then share it with the boys, figuring it out as I go.
There are a ton of things they learned that had nothing to do with my efforts, and I learned more than anything from my relationships with them.
I am technically a high school graduate, a college dropout, two times over, and a beauty school dropout. People tell me I have a sweet face, but it comes with a crass mouth. I also make up words, speak in movie quotes or song lyrics or memes, live by a swinging mood, love wicked humor and laughter, can cook, sew, paint, cut hair, polish nails, and decorate. But I am not those things that I do.
I say "technically" up there because as much as those things are true about me, they don't define me.
I am undefinable and unlabelable. And I believe all humans are and that God is.
I'm just a girl that loves her family and children, does her best to get by without taking too much shit, suffers the pains & loves the joys of life. And wants to talk about it. To write, converse and learn from others as I go.
I shared two posts on why I titled this Blog "Open Wound" and hope you enjoy the never ending content.
Jill
But we have this treasure in jars of clay, to show that the surpassing power belongs to God and not to us.
2 Corinthians 4:7