Chaos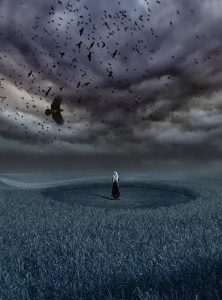 I have spent most of my adult life trying to maintain order. The actions of fixing, arranging, classifying, cataloging, systemizing, and cleaning come to mind. I have spent many years trying to teach my kids the same skills. I don't actually know anyone who hasn't been doing that. Practically speaking, life is spent creating and maintaining order. Keeping order is a highly valued trait and skill. We have reams of choices that we are encouraged to follow to find success, get our needs met, and enjoy life in comfort. When we succeed, it makes us feel powerful.
Our interior lives are no different, they require an attempt at fixing, arranging, classifying, cataloging, systemizing and cleaning thoughts, plans, schedules, and belief systems to name a few. The doing of life and the being of life all require attempts at keeping order.  They beg for it.
Some of my friends were talking recently about chaos as being the opposite of order. Well yeah, when something isn't ordered it's usually chaotic. One spiritual nomad, Dan Jones, (writer for Society at Blessed Peacemakers), takes it a little further. He shortly defined chaos on the individual level as, "Anywhere we are not in control. [Chaos] is the dark side of the moon, the unconscious mind, the wild unknown."  I'd add that it's not that we are not in control, it's the situations in which we are completely unable to add order.  I'd describe psychological chaos, as a "feeling of powerlessness."
Our ordering ways can give us real control of our physical environments. And having control makes us feel powerful.  So naturally, we feel chaos when we lose power.  My good friend who has Ehlers-Danlos, an inherited connective tissue disorder, is a wiz with order. She's the one you call when you move and need to unpack the kitchen.  But the disease has limited her physicality in a painful way. And limits usher in feelings of powerlessness.  She cannot do what she wants, when she wants to.  Not only that, she has used her abilities for other people, not in a self-aggrandizing way.  She did the ordering thing, she found her gifts, she worked hard, she served her family and friends like me.  Her journey to accept the realities of her life speak to me of real power.  But they also negate the idea that creating order controls outcomes.
Some aspects of maintaining order for the interior life would be to take control of our thoughts, manage our expectations, regulate our emotions, pick and choose what we believe, who we like, and recognize what makes us happy or sad or angry.  All good and proper, healthy emotional work!  A nice powerful feeling when our thinking ain't stinking.  But it only gives us power to a point. The silly thing is that everyone has a right to their own interior world and no two people are exactly alike.  We are wanting creatures. We want to be seen and heard and loved and accepted.  We do not have the power to bring those things into effect on our own. But by God we'll try. We'll fight that feeling of powerlessness tooth and nail if we don't recognize it. Heads up, we cannot control other people: neither their thoughts, their reactions nor their emotions.  Power again, in this case, is not trying to control the uncontrollable.  The opposite of chaotic feelings here is not more order, it is acceptance. Acceptance that we cannot control life and other people and minds that run counter to our own.
This doggone, and in my mind inherent, trait of wanting to control life leads us into all kinds of problems. You may have heard the idiom about career ordering, "You may get to the very top of the ladder and then find it has not been leaning against the right wall."
(A. Raine). How the hell does that happen? Well, somewhere along the way someone else's idea of what would be good for you got inside and led you down a wrong road. I'm thinking in this case that real power is not always in ordering but in being flexible enough to reorder. Maybe daily, weekly, or monthly if necessary.
There is so much value to order, I'm not denying it. Sometimes you can really "Do A and get B." If you read a lot you will end up with a wider vocabulary. Exercise tones muscles. Low carb eating trims the fat. Ya make more friends with honey than vinegar.
I like Joseph Campbell on this. He says, "Use the rules, don't let the rules use you." Don't believe you have control of something you don't. Like, having a wide vocabulary will win you friends and influence people. Nope. Or, toning those short little legs will make you look like a super model. Nope. Or cutting fat will change your natural body shape. Nope. He's talking about the places where that lust for control goes wrong. I like to think of it this way, being or doing any list from any place still does not give us complete control over outcomes.  You can trim all the fat and still drop dead of a heart attack, I'm sorry to say. Yeah, go ahead and do it, enjoy the pride of accomplishments, kick ass in school, work hard, be kind. But don't expect it to put you in complete control of life. Life is divinely ordered but it is also chaos.
Ecclesiastes 9:11
"I have seen something else under the sun: The race is not to the swift or the battle to the strong, nor does food come to the wise or wealth to the brilliant or favor to the learned; but time and chance happen to them all."
(Part I)