Reality Bites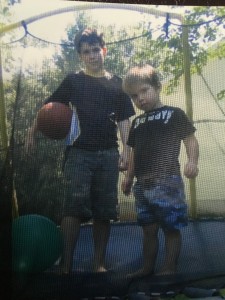 Before my husband and I had our first child, we lived for a year on one income. It was an intentional decision to adjust to a lower standard of living before children entered the picture. We knew we wanted to have a parent at home to raise them so…it seemed like a good idea at the time. Life was very chill that year, and during my first pregnancy. Before, when we were both working, it seemed that something was always left undone. The mail and papers and laundry piled up, the dinners were lame. The little annoyances in taking care of a home, making plans, and paying bills didn't always get done.
Anyway, when we split duties, so to speak, life was easy. Fine, there was no expendable income to have fun with, but otherwise it was a peaceful and quiet way to live.
The weeks after a long labor and an emergency C-Section with my first child, I was grateful to have my Mother at the house with us. Yes, I was also 25 and clueless as to what to do with a colicky baby. Plus, my husband was working long hours to support our way of life. Once I recovered and could make it around the house better, I was appalled at the state of the kitchen! Mail, papers, stuff piled on the counters, oh my. I thought, what has Mom been doing? For some reason I had an expectation that I could keep my spotless life after adding a little one. Reminds me of a few years later, after another little boy had arrived, and my first-born called me in to the living room to see what he had "made." With popcorn. Spread out all over the living room carpet. He said it was the Milky Way. Yes, clever as hell and messy as you can get.
Anyway, during those years I adjusted to different realities, weekly! For many years following that, as we had three kids and I home-schooled them, there were constant changes.  Basically, our home had no time where little people weren't under foot and living large. Something, something always had to give. Schoolwork done or dinner on time? Laundry piled up or kids read to? Carpet vacuumed or car cleaned up?  Maybe some can "have it all," or cover every base, everyday, but I still have a perpetual list. Some days only one or two things are knocked off. It's reality to me.
So, my personal experience is what leads me to some of my public policy conclusions. Just opinions on what is possible and what isn't. I don't personally like the idea of a hungry child, a homeless Mom or an ill-clothed man, for heaven's sake!  The thought of war orphans and widows with no place to lay their heads is over-whelming to me.
But I'm so sick of being labeled without compassion if I don't jump on the progressive bandwagon of government healthcare or wealth redistribution or open borders. One recent statement, by the Pope, said that not welcoming refugees into a nation is unChristian.  (Speaking to the temporary ban). This Pope is known for advocating love for the other, for releasing people with differences from judgement, yet is calling me unchristian, for one opinion?
I asked the question, in a group, "If the Pope is right, and if the US  based their decisions on that view, wouldn't that make the US a theocracy?  And doesn't that call into question the open border idea for all religions?" I just asked the question and was lambasted as  "bringing politics into Christianity," and then called a "biblicist" in a patronizing way.  First of all, those are opposing accusations, second, it was a question not a determination.  What gives?
I just don't believe in utopia.  Or forced altruism.  Giving up something for someone else is a value many of us have.  Forcing someone else to have the same values? Not freedom.  I was further told that in a "moral society" certain conditions should be met. The example of free healthcare was given. Free? Nothing is free. It's not realistic. Our society trades value for value. If someone wants to trade their $80 concert ticket, or play, or  sports event cashola and give it to their neighbor to pay for a prescription, I say have at it. But that is not a choice you have the freedom to require another person to make. One friend pointed out that we do have the freedom to make requests of our law-makers, which is fine, but don't tell me what I should request, okay?
I know, I know.  Many want the government to trade spending billions for this thing and give it to that thing.  I get it.  The reality is, there is no way to agree on everything. Yes, the taxes go to all sorts of things that seem like a waste.  Please, feel free to run for public office if you can do better.
Can you leave the judgment of my heart out of it though?  For the record, I have been on both sides of altruism and personally understand the value.  That's where I stand, it is a  personal choice.   I know I'm just a person on a page but I also never claimed my opinion is the epitome of perfect understanding or divine decree either, so please give me a break.  And thanks to all my actual three-dimensional friends that love me whether I'm making any sense or not.
"We must base our observations of the world on what the world actually is, not what we want it to be." Sean Edwards
"There are crimes that no one would commit as an individual which he willingly and bravely commits when acting in the name of his society, because he has been (too easily) convinced that evil is entirely different when it is done 'for the common good.'"
—Thomas Merton