Thriving
"Life is difficult. This is a great truth, one of the greatest truths. It is a great truth because once we truly see this truth, we transcend it. Once we truly know that life is difficult – o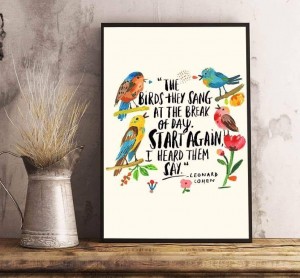 nce we truly understand and accept it – then life is no longer difficult. Because once it is accepted, the fact that life is not difficult no longer matters." (M. Scott Peck, The Road Less Traveled: A New Psychology of Love, Traditional Values and Spiritual Growth)
A friend passed along a quote about it being time for me to stop surviving and start thriving. My response was along the lines of F-in A, fist bump, high-five! Which slowly morphed into, what the hell does that mean anyway?
Thriving brings to mind ideas like being prosperous, powerful or successful. Maybe having what you want or doing what you love. Well that's what it brought to my mind and it sounds like bunk to me.
I'm sure we'd all love to be so prosperous that money is no worry but some people are just better at finances than others. I'd hazard a guess that plenty of people are prosperous but lonely. Probably some people are powerful but mean. Some of us get overwhelmed from too many choices at the grocery store, Lawd, don't give us power. And please, having what you want and doing what you love do not come without intense sacrifice. There is no vacuum where we will like everything involved in pursuit of a goal. And some things we want cannot come without the help of others, or in community agreement. This definition of thriving doesn't work.
I wonder if thriving is really just a pretty word for being a survivor. I'm a major fan of survival. Living as a survivor is an opposition position to living as a victim. My favorite gypsy in Hemlock Grove said, "There's what you want and there's what happens, guess which one you end up living with?" The victim stance is always stuck in the loop of wanting that thing that did not appear. Or wanting the thing that did happen, to not have happened. Yes, I have been stuck in that loop! Survivors know there is always a loop somewhere and they must all be dispersed at some point.
I believe survivors learn to live with life as it really is, not how we want it to be. But it's not some switch that can be turned on and off, it's more of a daily walk towards what is true. Maybe it's a moment by moment challenge at certain junctures! And damn, there is no formula. Survivors know this. Acting on and reacting to the days as they come is a unique dance for us all.
I recall various times when my kids came to me hurt by something another kid said to them. After agreeing with them about the pain of the situation we moved on to the habit of asking, "What is really true in this situation?" The pain was always real, but the names called usually weren't. "Were you really being a doody head?" If yes, apologize, ask forgiveness, forgive yourself and move forward. If no? Then don't believe it. Don't believe it for one second. Every kid learns that life is full of injustice and cruelty. Survivors learn how to deal with this reality.
I'll admit, I'm still surprised by what life and other people throw at me and mine. We all know that the troubles of life are not as simple as names called on a playground. Is Peck right that, "once we truly know that life is difficult – once we truly understand and accept it – then life is no longer difficult. Because once it is accepted, the fact that life is difficult no longer matters." I have a hard time agreeing that "it no longer matters." I'd say anything that is true matters. And difficulties don't become easy by having a different attitude towards them. But being transformed by difficulty, that's growth. Being willing to take what comes and find a way to grow within it. They say a plant thrives when it grows, it is simply the opposite of withering.
Marc Chernoff writes, "Let someone love you just the way you are – as flawed as you might be, as unattractive as you sometimes feel, and as unaccomplished as you think you are. To believe that you must hide all the parts of you that are broken, out of fear that someone else is incapable of loving what is less than perfect, is to believe that sunlight is incapable of entering a broken window and illuminating a dark room."
This rings true for the survivors in life. They don't hide away from the broken dreams, broken bodies, or broken spirits but face them head on. Allowing light to shine in and illuminate their souls. I know the survivors in my life have been some of the light that has shined into my dark rooms. Thriving sounds great but surviving is a worthy thing to behold.
"The light shines in the darkness, and the darkness has not overcome it." John 1:5